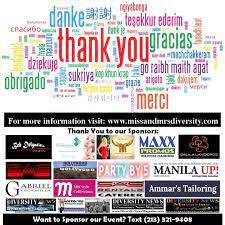 Diversity News Productions producer of Diversity Pageants and upcoming Diversity News Magazine Awards announces that Diversity Pageants produced by Diversity News Productions is seeking nationwide for sponsors for their 2nd annual Diversity Pageants 2017, which include: Miss Diversity, Miss Teen Diversity, Mrs. Diversity and Miss Diversity News, Miss Teen Diversity News & Mrs. Diversity News Pageants! Also Mr. Diversity and Mr. Diversity News.
To sponsor them, go to download the sponsorship opportunities application form at: http://www.diversitypageantsusa.com/sponsors/sponsorship-opportunities-2017
They're seeking sponsors for: Shoes, Accessories, Hair & Make Up Products, Crowns and Sashes, Water & Energy Drinks, Designer Dress, Swim Suits & Active Wear, Fitness, Vitamins, Spa Services, Car & Limousine Services, Choreographer, House Photographer, Hair Stylists, Make-up Artists, Airfare Round Trips, Gift Bags, Casting Call and Rehearsal venues and more.
Email to: [email protected]
Subject line: Diversity Pageants 2017 Sponsor
"This is a great opportunity for profit and non profit organizations to get involved with Diversity Pageants and they will get lots of opportunites to get exposure and showcase their products or services by promoting them at our events. Also at the same time they will be helping teenagers woman and man, young womans and mans, womans and mans who are looking to make their dreams and goals become a reality." said Steven Escobar, Founder, CEO, President and Executive Producer.
Remember to sponsor them, go to download the sponsorship opportunites application form at: http://www.diversitypageantsusa.com/sponsors/sponsorship-oppor…
About Diversity News Productions: Diversity News Productions, an events, film and productions company, is part of the Diversity News Publications Family of Companies such as award winning DiversityNewsMagazine.com, DiversityNewsPublications.com, DiversityNewsMagazineAwards.com, Diversity News TV, award winning Diversity News Radio and more. For more information, visit dnproductions.diversitynewspublications.com.
About Diversity Pageants: Miss/Miss Teen/Mrs. Diversity and Miss/Miss Teen/Mrs. Diversity News Pageants was founded in April 2016, in response to the controversy of no Diversity included in many entertainment award shows, television roles, modeling, media, government roles, movies roles and music, etc. The purpose and mission of Miss Diversity, Miss Teen Diversity, Mrs. Diversity and Miss Diversity News, Miss Teen Diversity News & Mrs. Diversity News Pageants! As well Mr. Diversity and Mr. Diversity News is to help women/men from 14 to 75 years to become confident, make new friendships, learn leadership skills, network for new opportunities as well to empower them and pursue leadership roles in our Diverse society. For more information, visit missandmrsdiversity.com
#SponsorUs #ProductsSponsorWanted #SeekingSponsors #SponsorshipOpportunites #NationwideSearch #Searchison #Applynow #DiversityPageants #BeaQueen #PageantLife #RedCarpetEvents #WeareDiversity #DiversityNewsProductions #SponsorUs #Diversity #StevenEscobar #Crown #Sash
Photo credit to: Bob Delgadillo Photography
PRESS & MEDIA CONTACTS:
Alex Leon, Vice President of Marketing & PR
Linda England, Events & PR Coordinator
World Wide Vital Marketing & Public Relations Inc.
TEL: (213) 867-1997
FAX: (818) 787-1249
worldwidevitalpr.wordpress.com
worldwidevitalpr@gmail.com