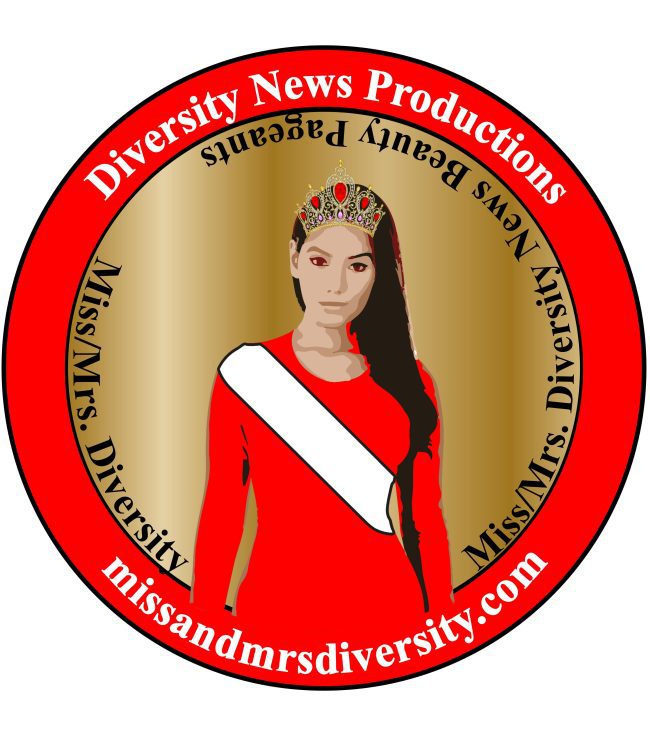 Hollywood, CA – August 7, 2016 – Diversity News Productions is excited to officially unveil their logo for Diversity Pageants USA formerly Miss/Mrs Diversity & Miss/Mrs Diversity News Pageants.
"I am really excited to unveil my dream logo the represents "We are Diversity". It took about a month to brainstorm and less than 2 weeks to work with the graphic artist illustrator." said Steven Escobar, Founder, CEO, President & Executive Producer of Miss/Mrs Diversity News Pageants Organization from Diversity News Productions.
After releasing the logo in our social media's and close people who saw it, they love it. You may wonder why the rainbow colors on the woman face? Well, this is the first annual pageant, so they have no queens yet, however whom ever wins this year! their face or part of their faces will be the logo for next year. Per the feedback received, that's a brilliant idea.
Per event producers, this year they expect to crown 3 queens and 6 runner-ups, so the chance for a woman to accomplish a dream is possible.
The meaning of DIVERSITY is: "The beauties of nature come in all colors. The strengths of humankind come in many forms. Every human being is wonderfully unique. All of us contribute in different ways. When we learn to honor the difference, and appreciate the mix. We find harmony."
Diversity News Productions 1st annual Miss/Mrs Diversity & Miss/Mrs Diversity News Pageants crowning and red carpet event will be held at The Performing Arts Education Center on the campus of Agoura High School 28545 W Driver Ave, Agoura Hills, CA 91301 on November 5, 2016 from 5pm to 10pm. The event will feature a red carpet arrivals at 5pm and the show at 7pm.
Tickets sale prices are $45 regular, $55 Reserved (VIP) for Miss/Mrs Diversity & Miss/Mrs Diversity News Pageants Crowning Show and Red Carpet Event. To purchase online regular or VIP tickets go to http://tinyurl.com/DiversityPageants2016
For tickets inquiries only: Call
A-PAEC Box Office: (818) 889-8058, ext. 1
The PAEC Box Office hours are:
A-PAEC: Mondays & Fridays from 8:30 to 11:30am and during all A-PAEC events.
You can also buy online tickets or hard copy from the contestants. Please contact them directly to support them by buying tickets and souvenir advertising sponsorship are available from them as well. Free parking to all.
If you want to be part of our pageants and want to make it to the photoshoot, you can still join by applying online at http://missandmrsdiversity.com/apply-now/#.V315YLgrLy0
The deadline for this season pageant is August 31, 2016. They will accept new contestants for next year immediately after August 31, 2016. So if you are serious and you are looking to accomplish your dreams and goals them contact them soon as possible.
About Diversity Pageants USA formerly Miss Diversity, Miss Teen Diversity, Mrs. Diversity and Miss Diversity News, Miss Teen Diversity News & Mrs. Diversity News Pageants: The purpose and mission of Miss Diversity, Miss Teen Diversity, Mrs. Diversity and Miss Diversity News, Miss Teen Diversity News & Mrs. Diversity News Pageants! is to help woman from 14 to 75 years to become confident, make new friendships, learn leadership skills, network for new opportunities as well to empower them and pursue leadership roles in our Diverse society. For more information visit https://diversitypageantsusa.com
###
MEDIA CONTACTS:
Alex Leon, Director of Marketing & PR
Linda England, Events & PR Coordinator
World Wide Vital Marketing & Public Relations
TELS: (818) 787-1249 or (213) 867-1997
worldwidevitalpr.wordpress.com
worldwidevitalpr@gmail.com
NOTE: This article was first published in our website miss and mrs diversity dot com